EDF Renewables UK is developing Gwynt Glas Floating Offshore Wind Farm and has entered into an exclusive development services agreement with DP Energy to support the ongoing partnership. EDF Renewables UK and DP Energy's Pembrokeshire based team are working together, combining local knowledge and expertise in developing, constructing and operating offshore wind farms.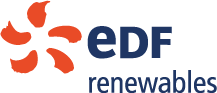 EDF Renewables UK and Ireland is a subsidiary of EDF Group and one of the world's largest low carbon electricity companies. EDF's global renewables platform develops, builds and operates renewable power generation and battery storage assets. In the UK and Ireland, EDF Renewables has over 2GW of assets in operation or under construction across offshore wind, onshore wind, solar and battery storage, as well as a development pipeline exceeding 10GW.
EDF Renewables UK is already providing much needed low carbon electricity, with two operational offshore windfarms, Teesside and Blyth and with Neart na Goaithe becoming fully operational in 2024. In France, EDF Renewables has one operational wind farm, St Nazaire with Fécamp and is building France's first floating demonstration project, Provence Grand Large, expected to be fully operational in 2024.
In April 2023, Mark Drakeford, First Minister of Wales officially opened EDF Renewables newest office in Cardiff. The office opening signifies our continued investment in Wales and to employing a skilled local workforce. Located in the heart of the Welsh capital, it will serve as our central base in South Wales. This is in addition to our existing Service Centre in Aberystwyth which supports the operation of Cemmaes and Llangwyryfon Onshore Wind Farms.

DP Energy is an Irish company that develops renewable energy projects across the world. Headquartered in Cork, Ireland, DP Energy has to date developed over 1GW of renewable energy projects which are built and operational. With over 30 years' experience in the global renewable energy sector, DP Energy is 100% committed to using the most sustainable and environmentally responsible methods in all of their energy developments. Operating in the UK since the 1990s to deliver onshore wind projects, DP Energy opened an office in Pembroke Dock in 2021 to focus the Celtic Sea floating wind opportunities, whilst progressing a UK and New Markets project pipeline.