Our Joint Venture Partnership
EDF Renewables UK and DP Energy announced a Joint Venture partnership in January 2022. We will combine our knowledge and expertise to participate in the leasing round to secure seabed rights to develop floating offshore wind in the Celtic Sea.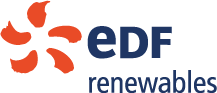 EDF Renewables UK and Ireland (www.edf-re.uk) is a subsidiary of EDF Group, one of the world's largest low carbon electricity companies. With an operating portfolio of 38 renewable energy sites including battery, onshore and offshore wind (together totalling 1GW) EDF Renewables UK is providing much needed affordable, low carbon electricity. The company has an expanding portfolio with almost 5 GW of projects in planning and development across the UK.

DP Energy has been developing renewable wind, solar and ocean energy projects for over 30 years across the UK, Ireland, Australia and North America. Having delivered projects with a capacity of over 700MW, the company has a further 400MW consented and a pipeline of 6GW under development. Operating in the UK since the 1990s to deliver onshore wind projects, DP Energy opened an office in Pembroke Dock in 2021 to deliver the Gwynt Glas floating offshore wind farm.